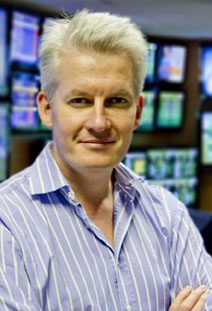 Éamonn Toland read Modern History and Economics at St. Hugh's College, Oxford, where he received a Lawlor Foundation Scholarship.
After graduation he worked as an analyst with Unilever and Coca-Cola Schweppes Beverages, and as a management consultant with Accenture and McKinsey & Co., before becoming the Head of Telephone Betting with the sports betting company Paddy Power plc.
He was the President of Paddy Power North America from 2012 to 2016, before founding Zingbet, a gambling consultancy. In addition to being a media spokesman for Accenture, he has written articles for the London Times and Telegraph, appeared in television programs and documentaries, and been a key speaker at numerous conferences.
Together with his wife and son, he divides his time between Dublin, London and New York. This is his first book.